Garden Rubbish Removal in Sydney
Gardens add beautiful aesthetic value to any home. Whether you're using your garden as an entertainment area for guests or you're planting your favourite fruits and vegetables, a well kept garden is important. If you've neglected your garden for too long or it has overgrown everywhere, now is the time to get something done about it!
Common types of garden waste we see include grass, flowers, hedge trimmings, branches, bushes, stumps, soil, logs, turf and backyard garden furniture. We also see many garden sheds with a heap of garden rubbish that compiles over time.
The team at CBD Rubbish Removal have an abundance of expertise in garden waste removal. During garden waste removals, the most common type of waste that we remove include grass, hedges, branches, soil, logs, bushes and trees.
Our team are experts in removing garden waste safely and efficiently. We will bring your garden back to life and create a beautiful entertainment area or area for you to start that veggie patch you've always wanted! It'll also bring the value of your property up! Everyone loves a nice and clean garden. We are a friendly and reliable team who are known for an affordable green waste rubbish collection service.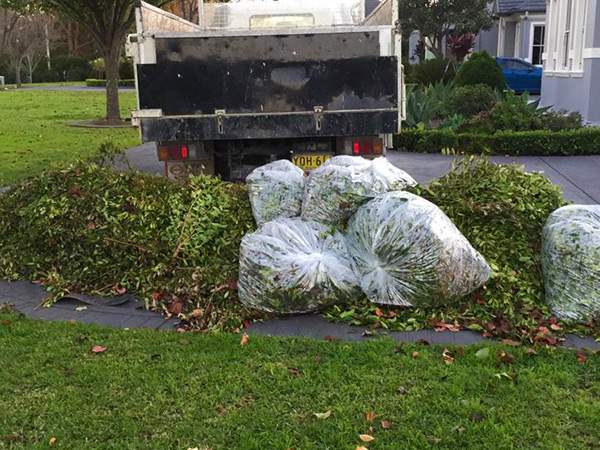 Garden Waste Removal in Sydney
CBD Rubbish Removal operate 7 days a week to provide a convenient service. We are renowned for our fast and reliable garden waste removal service. To make it even better, we provide same day green waste removal service all around Sydney.
We pride ourselves on our competitive pricing in the Sydney rubbish removal industry and provide free no obligation quotes with zero hidden costs so you know exactly what you'll be paying. We aim to make our service as easy as possible with you in mind. Give our friendly team a call today on (02) 9186 8108 for a fast and efficient garden waste removal service.
We deal with the entire rubbish removal process from loading and disposing of all items to sweeping up the last little bits. We ensure that your project is left sparkling clean with no leftover debris. Leave the workload to us; we're ready to deal with all your rubbish so that you no longer need to!
We also promote recycling and re-use strategies to ensure that our services are environmentally friendly. Give our team a call now on (02) 9186 8108 for a free quote and same-day rubbish removal in Sydney. We will ensure we take all waste to be disposed of. All removal and disposal are environmentally friendly.
How Much Does Garden Rubbish Removal Cost?
The cost of garden rubbish removal is unique and differs from job to job. Garden waste removal cost depends on the size of the job, the time the job will take to be completed and the manpower required to get the job done. At CBD Rubbish Removal, we offer free no-obligation quotes so you know exactly how much you're paying before the junk removal service is started.
Same Day Garden Rubbish Removal Service
Here at CBD Rubbish Removal, we offer a 24/7 rubbish removal service. We strive on convenience, reliability and efficiency. We complete each and every job to 100% customer satisfaction. We offer an affordable and fast rubbish removal service. Give our team a call now on (02) 9186 8108 for a free quote and same-day rubbish removal in Sydney.
Rubbish Removal Services
We provide a whole range of rubbish removal services that include: